• SIMPLE TO USE - Plug our OBD2 scanner into your vehicles OBD2 port; Pair with your Android phone via Bluetooth; Downlaod an app to use it with; Then connect & go! (NOT IPHONE COMPATIBLE)

• EASY FIXES FOR LESS - Using our code reader you can read & clear your check engine light fault codes with your Android phone (does not read ABS/SRS). Check your emissions system readiness, know if you will pass emissions /smog tests before you go!

• LIVE DATA - See live real time data with our code reader such as O2 sensors, fuel pressure, Engine load & more; Freeze fram data; Map based sensor tracking with certain apps

• GUARANTEED - Unlike other OBD2 car scanners we guarantee ours will work on ALL OBDII protocols including J1850 which many have problems with! Reads at faster speeds than most other OBD wireless Bluetooth OBD reader.

• Our car scanner works with all cars and light trucks purchased in the USA model year 1996 & newer (gas & diesel) including but not limited to Ford, GM, Chevy, Chrysler; Dodge, Jeep, Toyota, Honda, Lincoln, Mercury, Mercedes, BMW, Porsche & More! (For compatibility in other countries, please see product description.

• ELM327 COMPLIANT - If the app you wish to use this with states ELM327 compatible, our OBD reader will work with it. Fully compliant with the ELM327 command set.

3rd Party paid or free app required to use device (Piston - Free; Torque Pro, OBD Fusion, DashCommand etc)

• 2 Year, hassle free, warranty & friendly USA based support
---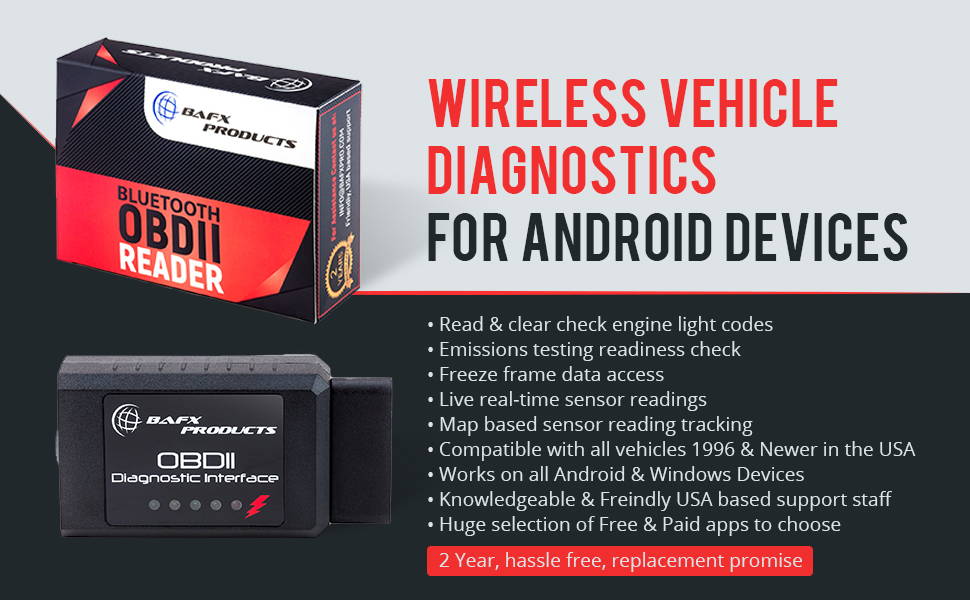 Insane amounts of vehicle data at your fingertips!
The BAFX Products Bluetooth OBDII scanner will help you gain huge amounts of insight into diagnosing and solving your vehicles problems!
Why choose BAFX Products above all others?
COMPATIBILITY - We have perfected our OBD2 reader to function on ALL OBDII protocols which includes the J1850 protocol used by many Ford & GM vehicles as well as the ISO9141 protocol used by so many brands. A lot of our lower cost competitors, in their drive to lower their cost, had to omit some parts/connections internally which causes them to not work on these trickier protocols but you will not know this by looking at them!
RELIABILITY - We use a higher quality processing & Bluetooth chip than our competitors, sure it costs a little more but allows for a more stable and reliable connection. No worrying about dropped signals in the middle of a diagnosis
SPEED - No, we aren't as fast as the super expensive scanners but we sure our faster than most of our direct competitors thanks to our updated Bluetooth 5.0 technology. Bluetooth is backwards compatible so it will still work on your Bluetooth 4.2 and older devices BUT if you have a Bluetooth 5.0 device and use it with our Bluetooth 5.0 OBD reader, be prepared for much faster read speeds!
USA BASED SUPPORT STAFF - We offer friendly, easy to understand USA based support staff.
OUR PROMISE TO YOU - We stand behind our OBD2 reader 110% with a 2 year no hassle claims process should you have any trouble with the tool.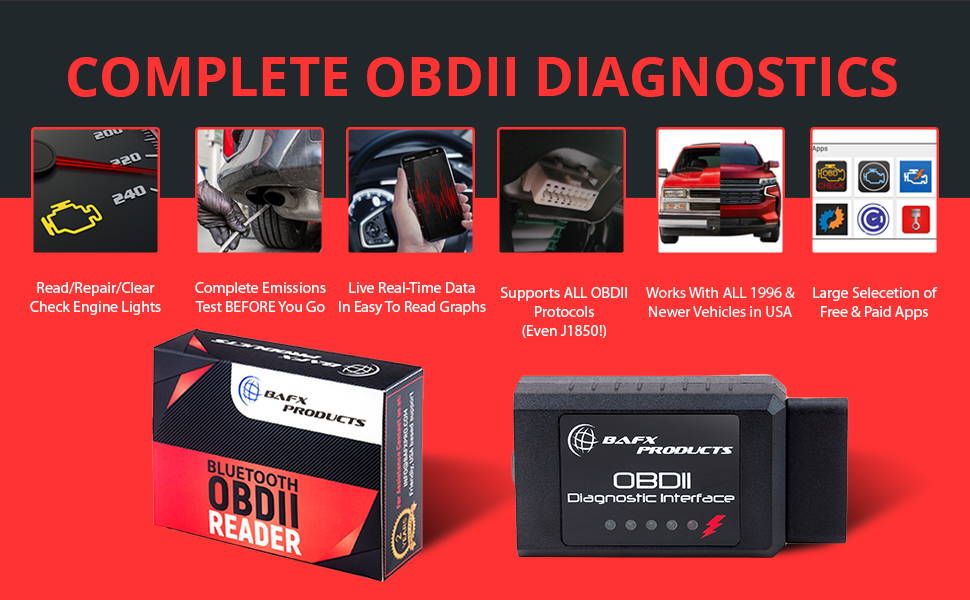 But really, what can you actually get done with our OBD2 scanner?
If you are an a DIY shade tree mechanic, our OBD2 scanner is for YOU!
No, we can't get you access to dealer level data, at least not without mortgaging your home, we aren't going to lie to you. So what can you do with our OBD2 scanner you ask?
• Read & clear your check engine light (aka CEL)
• Know the code causing your vehicle problems to determine if you can fix it yourself or need to take it to a mechanic, no more guessing games and know if your mechanic is telling the truth
• Check emissions readiness. Going for an emissions test? Check to see if your vehicle will pass before you sit in line only to fail! Check emissions readiness and make sure your drive cycle is complete before going!
• Get real time, live data while your vehicle is running. You can read O2 sensors, fuel rail pressure, air fuel ratios, air temp, boost, engine load, fuel flow & SO MUCH MORE! (sensors readings available depend on vehicle manufacturer!)
• Map based sensor readings. Take your vehicle for a drive and view your sensor readings against a map of your drive route to know how you were driving when a particular reading happened!
• Graph sensor readings - Have your app lay out all your sensor readings in easy to evaluate graph form!
Works on all vehicle sold in the USA that are model year 1996 & Newer! Also compatible with vehicle internationally starting with different model years. Read further to check to see if it will work in your country.
Our OBD2 code reader does not come with an app. For most situations and people we recommend Torque Pro which has a nominal fee though there are TONS of apps to choose from both free & paid. Different apps can offer you different abilities from general OBDII readings to enhanced vehicle specific coding.
Works on ALL OBDII protocols including the difficult J1850 and ISO9141 protocols. Some brands of car code readers SAY they work with these, ours REALLY does!
DOES NOT read or reset your SRS, ABS, Oil Change or General Maintenance lights (exceptions may apply with certain apps. Contact BAFX Products for more information)
International Compatiblity

Supports ALL OBDII Protocols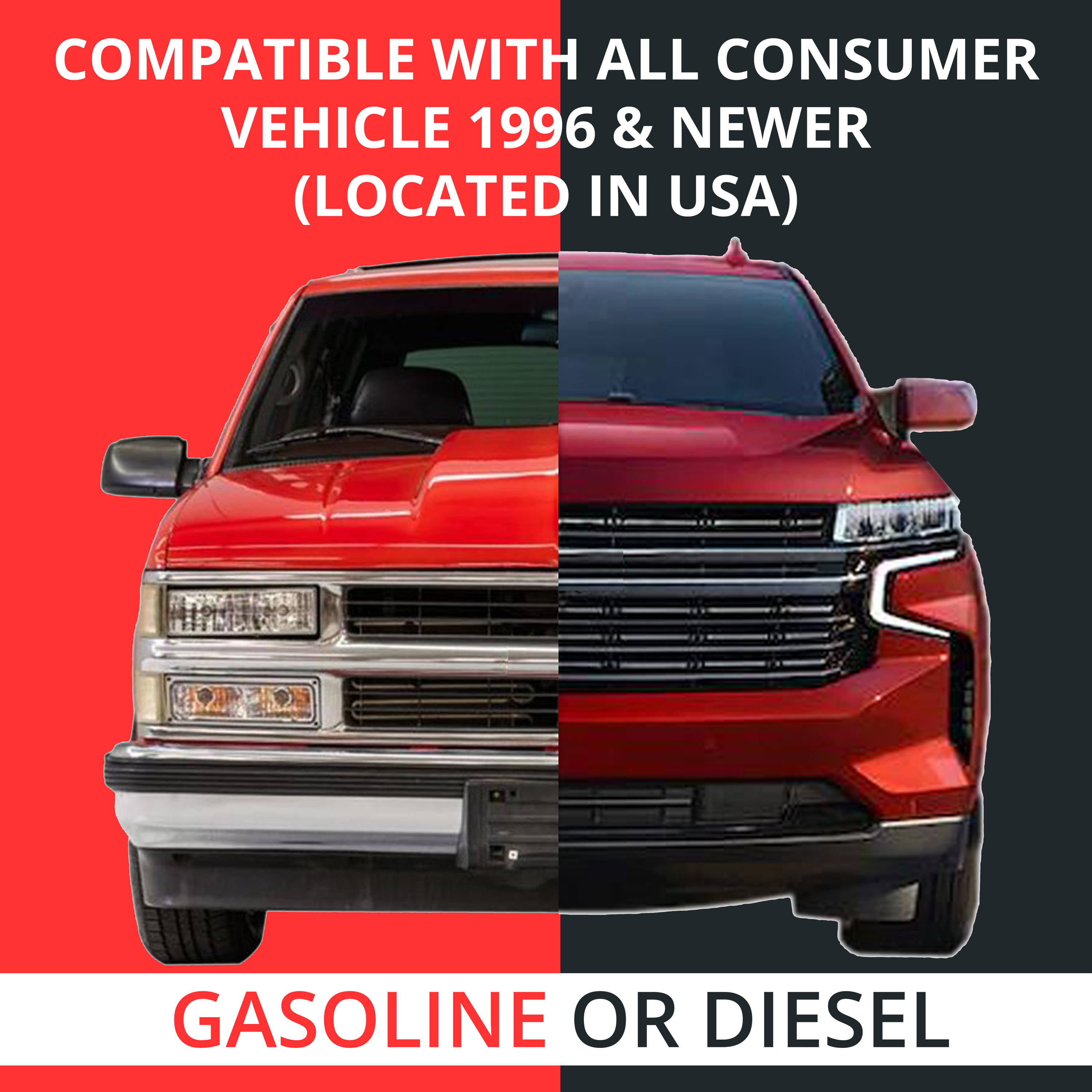 Full USA Compatibility
Compatible with all consumer vehicles (cars & trucks) purchased in the USA that are model year 1996 & Newer! Whether your vehicle is gas or diesel powered our OBD reader will work with it so long as it was purchased here in the USA and is 1996 or newer.
Exclusions: Heavy duty vehicles (semi's, dump trucks etc), motorcycles, ATV's, snowmobiles, boats etc. Some all electric vehicles also may not be OBDII compliant such as newer Teslas since they do not have combustion engines, though some (such as the Nissan Leaf) may still work with special apps. Contact BAFX Products for more details.
International Compatiblity
The location & model year of where the car or truck is located will determine if our OBD code reader will work with as different countries have different laws regarding OBDII compliance.
Australia: 2007 & Newer; Brazil: Petrol 2007 & Newer / Diesel 2015 & Newer; Canada: 1998 & Newer; European Union: Petrol 2001 & Newer / Diesel 2004 & Newer; Israel: 2003 & Newer; India: 2017 & Newer; Japan: 2010 & Newer; Mexico: 2006 & Newer; New Zealand: 2006 & Newer; Philippines: 2006 & Newer; Singapore: 2014 & Newer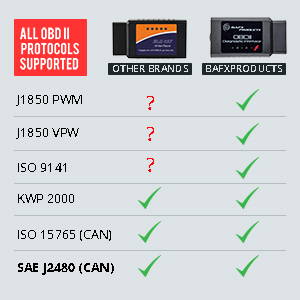 Supports ALL OBDII Protocols
The BAFX Products OBD2 car scanner supports ALL OBD2 protocols unlike so many other OBD readers on the market. Many OBD2 scanners claim to work with all OBD2 protocols however most have trouble with the J1850 protocols used by many Ford and GM vehicles. The ISO9141 protocol also gives many other OBD readers issues, this protocol is found on many Chrysler, Honda & Toyota vehicles. We made a name for ourselves by producing an OBD reader that actually works on these protocols!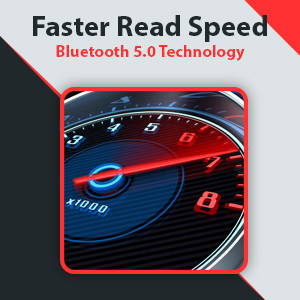 Faster Read Speeds
Using Bluetooth 5.0 technology our OBD2 code reader can offer faster read speeds than many of our direct competitors. This means less lagging data and closer to real time information than other code readers! Due note however that actual read speeds will vary from vehicle to vehicle as different OBD2 protocols transmit data at different speeds themselves so read speeds are also limited by the vehicle itself.
Read & Clear Your Check Engine Light

Emissions Testing Readiness

Access LIVE Real-Time Data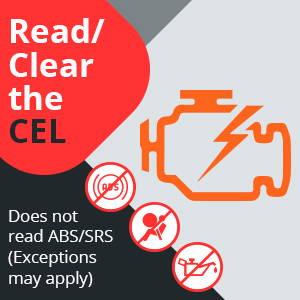 Read & Clear Your Check Engine Light (aka CEL)
One of the main features of our tool allows you to read and clear your vehicles check engine light. Of course, you usually do not want to clear the check engine light without fixing the problem first. Our OBD reader will help you pull the code that is causing that check engine light to illuminate so that you can get it fixed and get back on the road safely. Please note, that our OBD reader does NOT read or clear the ABS, SRS or Oil Change lights though exceptions do apply to this. There are some apps available on the market that can help with reading and clearing those on some vehicles such as the GaragePro app. Please contact BAFX Products for more details about ABS & SRS reading.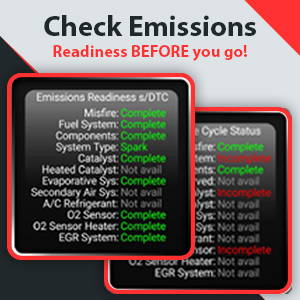 Emissions Testing Readiness
Need to take your car in for emissions testing? You can use our OBD reader to verify the vehicles computer is ready to pass the test before you head out. You can check to ensure that all the normal test the emissions center will complete are ready to pass before leaving and also check to ensure that your vehicles drive cycle is complete. Even if you cleared your vehicles check engine light (CEL) you must ensure you have completed a full drive cycle without that light coming back on or your vehicle may still fail! Our OBD reader can help you determine if you have completed that drive cycle!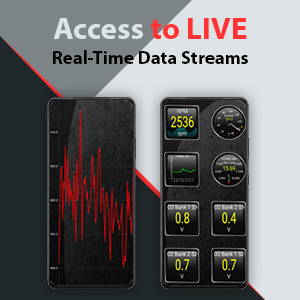 Access LIVE Real-Time Data
Our OBDII scanner can be used to pull live real-time data from your vehicles emission control sensors and you can have that information displayed in many different ways depending on the app being used. Graphs, gauges, dials, map based.... no problem. Sensors available for reading will vary from vehicle to vehicle however some examples of possible readings are: O2 sensors, RPM, air temp, fuel pressure, boost, EOT, throttle position, run time, timing advance and much more!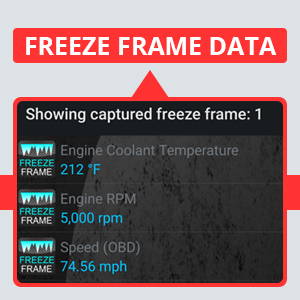 Freeze Frame Diagnostics
What is freeze frame date? When your check engine light is on, many vehicles will provide freeze frame data. Freeze frame data gives you a snapshot of your vehicles sensor readings at the time the check engine light was tripped. This information can be very helpful in diagnosing and fixing the issue with your vehicle!
---
Bluetooth - Works W/ Android or Windows
WiFi - Works W/ iOS (Apple), Android or Windows

Compatible with ALL

Android or Windows Devices

Compatible with ALL:

iOS (Apple), Android or Windows Devices
Written by
an anonymous user
on
Customer Reviews
based on reviews
There are no customer reviews yet.
Thank you for submitting your review. Once it is approved, your review will show up in the list of reviews.
Submitting your review failed. Please try again.