• TRIPLE ZONE – Our Triple Zone or Multi Zone Kit allows for the independent control of identical devices on one kit. In essence with the triple zone kit you are getting 3 single zone IR Repeater Kits built into 1 kit so there is less to install and less cluttering up your home.

• COMPATIBLE – With all major brands that use IR remote controls. Compatible with Dish Network, DirecTV, COX, Charter, Spectrum, Sony, Roku, Samsun, Onkyo, Marantx, Yamaha, Motorola, Arris, Cisco, Verizon FIOS & many, many more!

• CONTROL – With this kit you can control up to 2 devices per zone with the included parts (1 Dual head emitter cable per zone and one IR receiver per zone). Each zone may be expanded to control up to 4 devices with the purchase of add-ons

• COMPACT – A smaller footprint than many other kits on the market allows the main block to placed just about anywhere along with a new and smaller IR receiver for a more discreet look. With the addition of mounting tabs on either side it can even be affixed to a wall, cabinet or ceiling!

• WARRANTY & SUPPORT – BAFX Products offers a 1 Year Warranty against manufacturing defects with a simple & super easy claims process. Not to mention our friendly and knowledgeable USA based support who are ready to help answer your questions and assist in getting you setup!
Why would a triple zone IR repeater kit be better than your single zone IR repeater kit?
If you and your family enjoy watching TV or movies in different rooms of your home at the same time you most likely have a cable or satellite box, Roku, DVD player or receiver setup for each room where you watch TV or movies from. You decided that you want to hide all of those devices in a central location of your home such as a special A/V closet in the basement but need to control them from the rooms you are watching TV from. So, you decide to get an IR repeater kit! Great move! However after installing it, you find out that when you are watching TV on the main floor and change the channel on your cable box, the channel on the second floor also changes!
What the heck?!?
With a single zone IR repeater kit (or remote control extender) when you send an IR signal to the IR receiver of the kit that signal will be sent to ALL of the emitter heads connected to that kit. So, if you have separate but identical cable boxes for each floor or room (lets say both are model #ABC-123) and they are both connected to the same single zone IR repeater kit, then when you change the channel in one room, the channel will also change in the other room!
Our triple Zone kit solves that!
Our triple zone remote control extender kit has 3 distinct and separate "Zones". What this means is that when you send an IR signal to the IR receiver plugged into Zone 1, that signal will ONLY be sent to the emitter cables that are also plugged into Zone 1. The emitter cables plugged into zones 2 & 3 will not get that signal unless you also send that signal to the IR receiver plugged into those zones. Essentially, what this gives you is three separate single zone IR repeater kits, combined into 1 easy to install repeater kit! Not only does this make for a cleaner, easier more streamlined install, it also helps reduce your setup costs!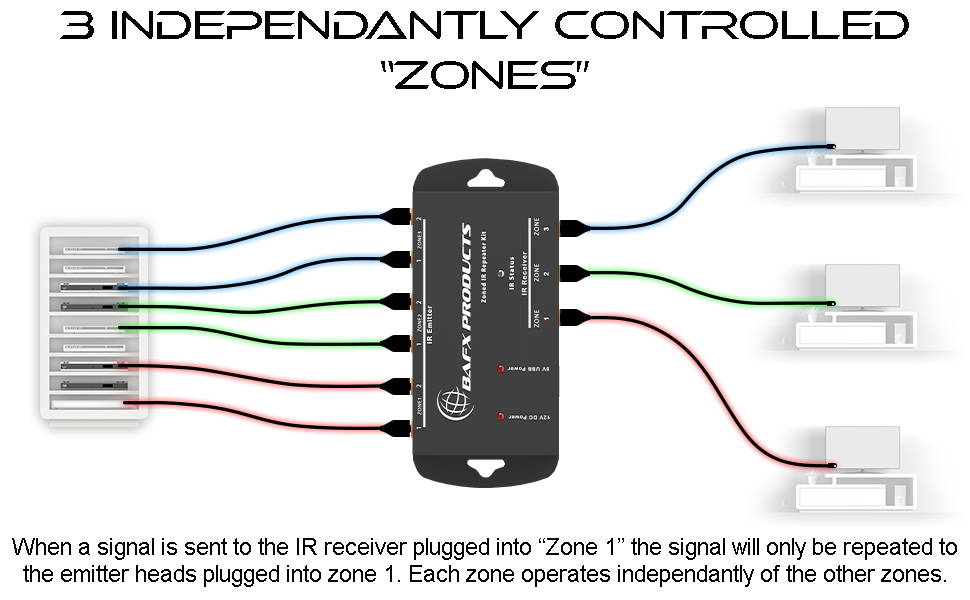 In the photo above you can see there are 3 televisions in 3 different rooms. The television in the first room with the red wires has an IR placed by the TV. When you point a remote control at that IR receiver and press a button, the signal from that remote control will then only be send to the devices connected to the red emitter cables on the left side of the above photo. No worrying about accidentally changing the channel in more than one room at a time.
IMPORTANT!
This only works if only ONE IR receiver is within view of the remote control when sending a signal to it. This kit is best suited for situations where each IR receiver for each zone is in a different room from the other IR receiver OR if they are properly isolated from each other.
Our kit does NOT know the difference between the remote controls you are using, it only repeats the IR signals that it receives. So, if you setup the extender kit in a way where the IR receivers for zones 1 & 2 are BOTH in view of the remote control, then the signal will be sent to all of the emitters also plugged into zones 1 & 2.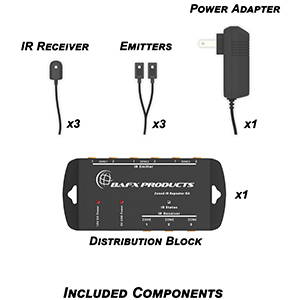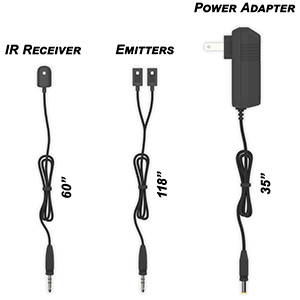 What you will receive with your kit
In your new triple zone IR repeater kit you will receive:
3x IR receivers (one for each zone)

3x Dual head IR emitter cables (one for each zone)

1x Triple zone IR distribution block

1x 110V US power adapter
Where can you place the IR receiver?
The IR receivers for each zone must be placed within full view of the remote control so they can pick up the IR signal. The light on the IR receiver should be facing the user of the remote control (it should not face the floor, ceiling or walls). You can then use the remote control with it from about 28' away (depending on remote control also) and within any 45° angle of the IR receiver.
How long are the cables?
IR Receivers: 60 inches of useable cable not including the IR receiver head or 3.5mm stereo jack
Emitters Cables: 118 inches not including the emitter heads or 3.5mm stereo jack. (emitter heads may be GENTLY pulled apart to attach to other device but NEVER cut them off!)
Power Adapter: 35 inches of usable cable not including wall plug or distribution block plug.
Not to worry! Both the IR receiver cables AND emitter cables can all be extended in length to ensure you can run them to the needed rooms in your home! You can extend either the IR receiver or the emitter cables OR BOTH at the same time. We recommend extending the IR receivers no more than 300 feet and the emitter cables no more than 200 feet. How far you can extend them will also depend on what other wires or cables you are running them near. If you are running the extensions near lots of electrical wires, junction boxes or the like, you may not be able to extend them as far due to interference from those things. In a perfect situation, you may be able to extend them further than the distances noted above.
Ok, great! But, HOW do I extend them?
Great question! You can extend either IR receiver OR emitters using any standard "STEREO" headphone extension cable that has 3.5mm male and female jacks on either end. A "stereo" headphone extension cable has 2 black rings on the male end of the cable where as a mono extension only has one black ring on the make end of the cable.
You will note our emitter cables have a "mono" male plug however a stereo extension WILL still work with the emitters! To keep things simple you may use a stereo cable to extend those as well. You could use a mono cable for the emitters though a stereo works just fine for this. However, you CANNOT use a mono extension cable to extend the IR receiver since our IR receiver has a stereo (2 ring) plug on it.
BAFX Products does sell 25 foot extension cables for this purpose, see our accessory chart below. You can daisy chain them together to make the needed length. Our brand of extensions are NOT required, you may use any brand of extension you so choose as long as it meets the specifications above.